Tribeca Home has the hand of Edward Yedid, the interior designer. Let's find out how Design and Art are mixed in this 1800's book bindery warehouse.
According with Yedid, "The boys were integral to the living environments,". "We wanted the space to be climbable and kid-friendly, [and] we wanted to incorporate color and art in a meaningful way that, like the overall scheme, is appropriate and engaging for both the parents and their children."
Tribeca Home Tour
We begin in the children's bedrooms where fun is all around.
Here we can see a climbing wall that was a little bit complex according with Yedid. We can see Calico Wallpaper, and the gym rings belong to Fitwood of Scandinavia. The skate decks are a Damien Hirst wall installation.
Color and fun within the children's spots. The wall coverings are Marley + Malek.
The primary bathroom features a soft color palette and a large tub.
Let's take a look to the Office desk made with blue sodalite marble. The yellow chair has the design of Joseph-Andre Motte. All inside the main bedroom!
Within the main bedroom we can see a comfortable armchair from The Invisible Collection, and the yellow side table from Charlotte Kidger.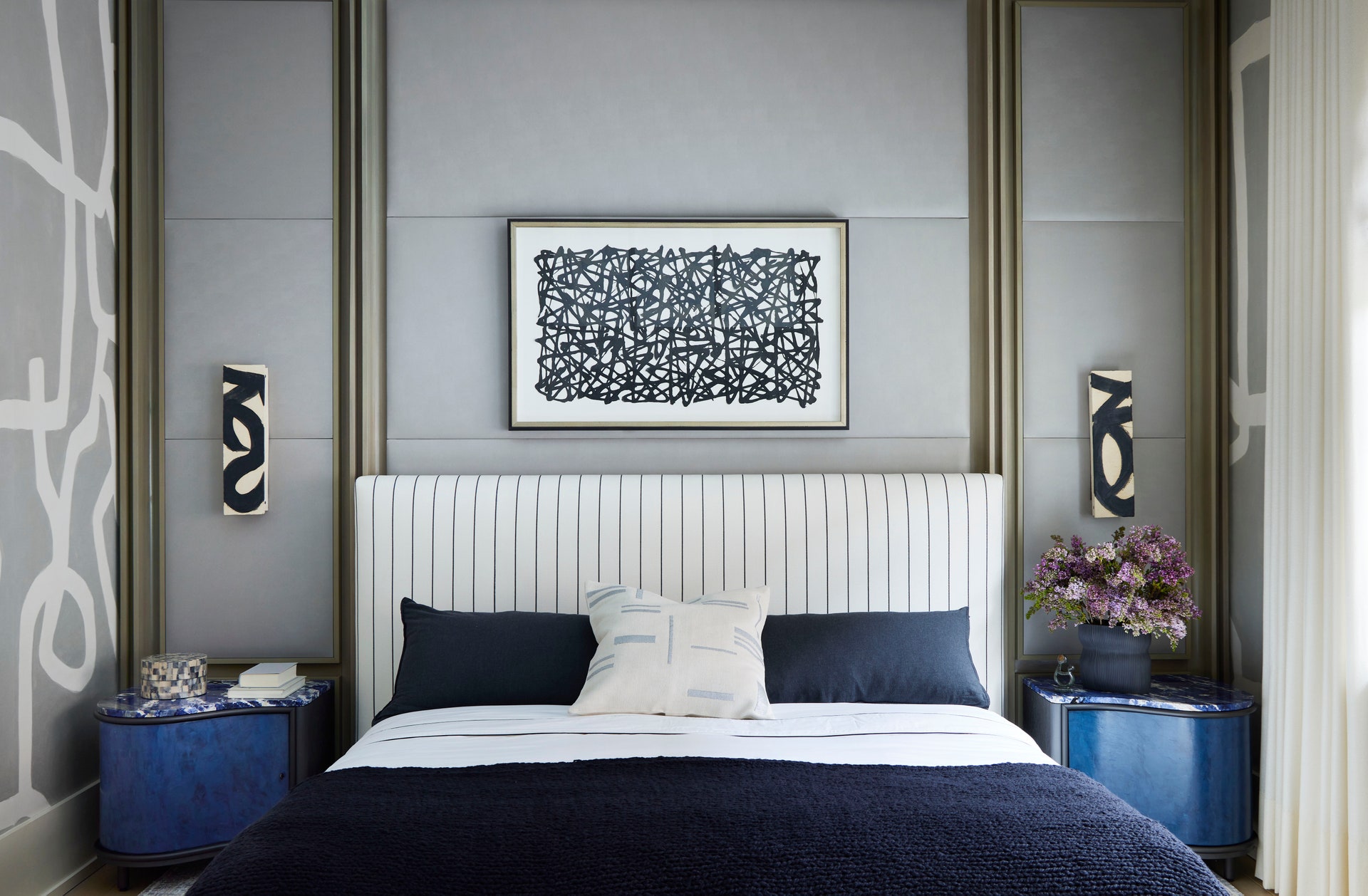 The primary bedroom has blue and grey tones, and they are an outstanding color combination. The king bed is by Jouffre, wall coverings by Porter Teleo and wall lamps by John Wigmore.
Breakfast Corner with a curving sofa upholstered in blue fabric by Jouffre. The table by Dirk Vander Kooij and Eames shell side chairs.
The kitchen design has the main star of this Tribeca Home. Best of all, the children can climb it! This is a creation by Eva Rothschild.
The bar cabinet is one of Yeti's favourites! The dining table is custom made, while the chairs are by India Mahdavi. Then we can see the pendant lamp designed by John Procario.
This spot in the living room belongs to the children, with French Modern chairs and rug by Monologue London.
Art and Design
Comfortable corner with armchair by Pierre Yovanovich. Both center tables belong to Egg Collective.
We are in love with the living room, the artwork on the walls are by Pat Steir and they are simply amazing. The sofa is by Living Divani, and the blue chair is by Joseph-Andre Motte.
The entrance sets the tone for this Tribeca Home. With color and geometric patterns! The console table by Herve Van der Straeten, features a neon lamp and glass mirror by Sabine Marcelis.
Credits to: Architectural Digest