Family Gathering can be as sophisticated as a soirée with only adults. The designer, blogger, and mother of three, Devon Liedtke, gives us some tips.
Because the designer is a mom, she admits that she realizes that nothing is too precious because the kids can break it or spill it. Therefore, the 1º tip is to set the table with melamine dishes and plastic. Plus, acrylic drinkware for the kids. To have a clean table buy melamine dishes in the same colors as the dishes that you are going to use for the adults.
The designer states that she doesn´t design down for her kids. She loves to include them on the big adult table. The 2º tip is to have table games ready for the kids. While the adults are talking about politics, sports, and work, the kids enjoy their time.
Suppose you don´t have kids; consider buying one or two games for them ahead of time. Suck as indoor or outdoor games.
The 3º tip is for entertainment purposes. If you have kids, ask them to sing songs they learned in school or in their free time. Plus, you can ask them to dance. Kids are always up to do fun stuff.
If you don't know how to decorate your table, keep it simple. For Devon, it means a minimalist color scheme with floral arrangements. Such as daffodils or tulips.
The 4º tip is set on the table at the last minute because of the outdoor elements like wind, dropping leaves, and heat. If you don´t know what tabletop accessories Ach Collection suggest, the Primitive Bowl is perfect for a fruit bowl; the Oskar Round plate, and the boy plate.
If you don't know what to cook for your family gathering, here is a simple recipe for starters.
Roasted Grapes Recipe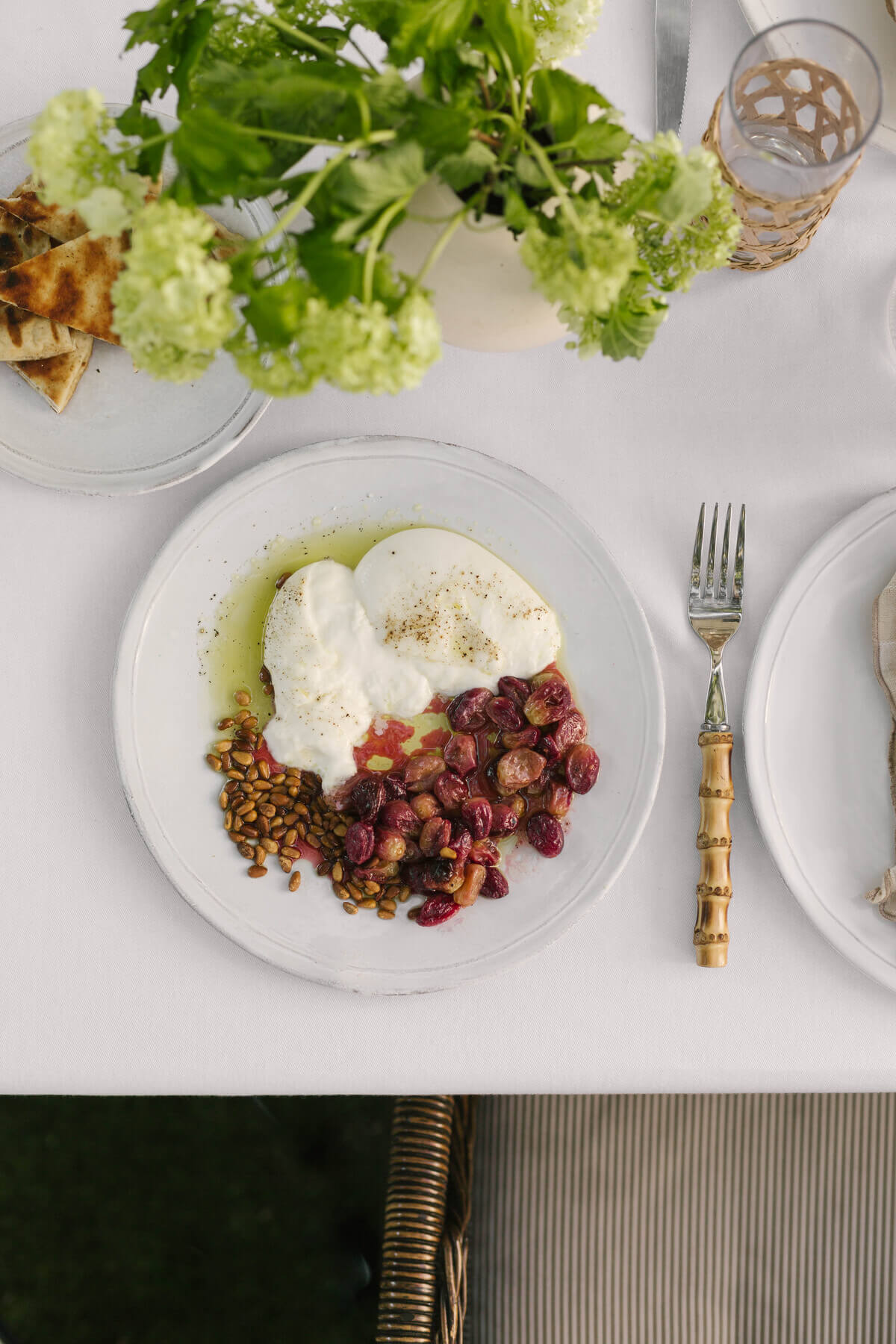 1º Preheat the oven to 45o degrees. Put a cup of grapes into a bowl and season with a little bit of salt, pepper, and olive oil.
2º Put the mix in a sheet pan and bake it for 15 minutes, constantly shaking the pan.
3º After 15 minutes, remove the roasted grapes and let them sit for a while. On a plate, add burrata, then the roasted grapes to the side. You can enjoy it with crackers, pieces of bread, or a grilled pita.

Source: One Kings Lane