Hollie Bowden, a London-based designer, Hollie is actively experimenting with color combinations. Until now, a big part of her projects has been dominated by subdued earth tones. She states that primary color makes her feel uncomfortable. Nonetheless, the London designer is renovating a beautiful colorful five-bedroom house for herself in Finsbury Park.
Her work is such high quality that it is amazing that it is not better recognized or published. Despite this, she has managed to establish a famous portfolio. She designed Robert Pattinson Los Angeles house and the singer and songwriter FKS Twigs London home.
Thanks to a series of villas on the Spanish island Ibiza, the London designer made her mark. Her first solo job was an eight-bedroom villa for a Greek customer she met through acquaintances. He gave her unlimited artistic freedom.
ES CUBELLS, IBIZA
As a result, that led to another job, a 1980 modernist villa, from an art collector in Es Cubells, on the island´s southwest coast.
The rooms were a little dark and oppressive with plenty of heavy dark wood, according to the London designer. She entirely remodeled the inside, replacing the windows with considerably larger ones and adding a triple-height ceiling in the dining room. With a relaxing off-white palette, a variety of textured natural materials, and a well-curated collection of furniture. These incorporate a 16th-century limestone fireplace in the living room; an odd mid-century "throne" found in London; an antique wooden washboard sourced at a Paris flea market.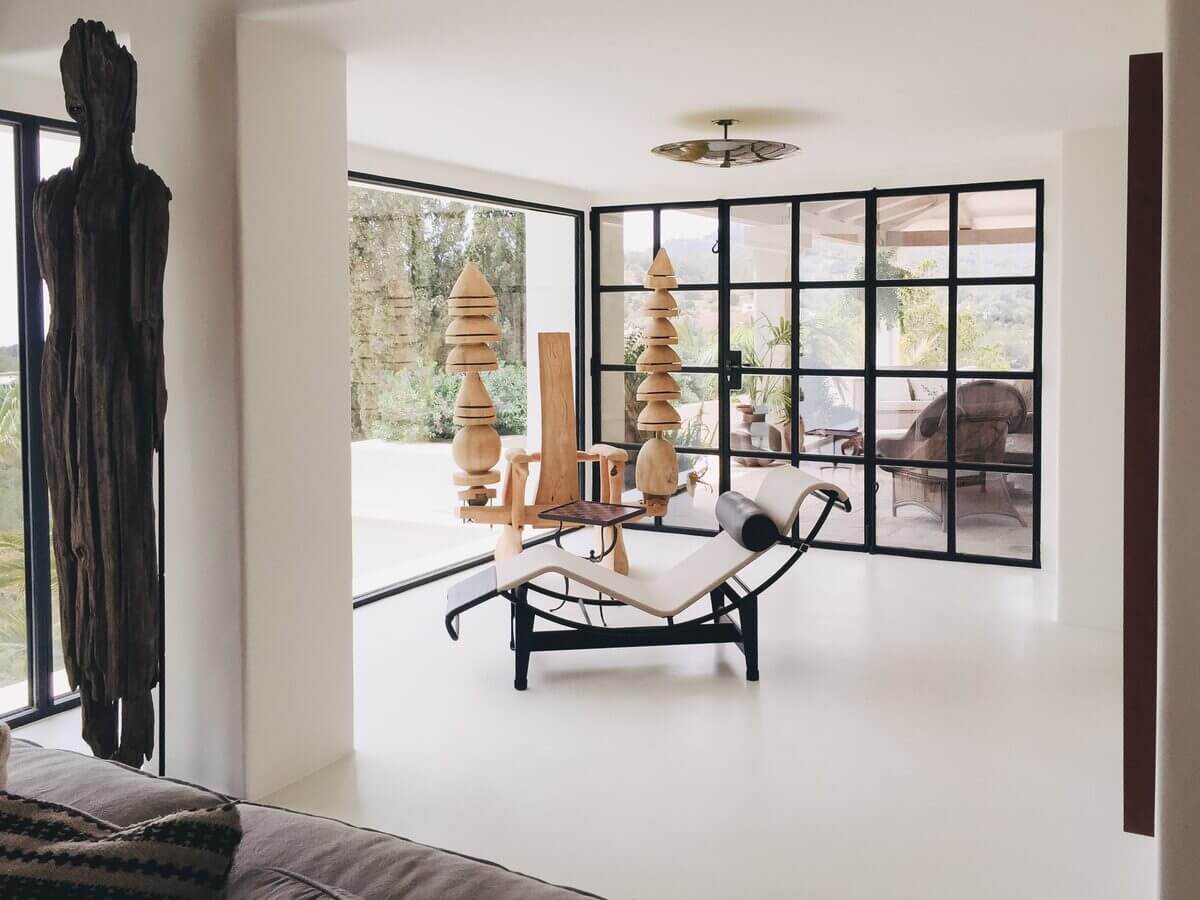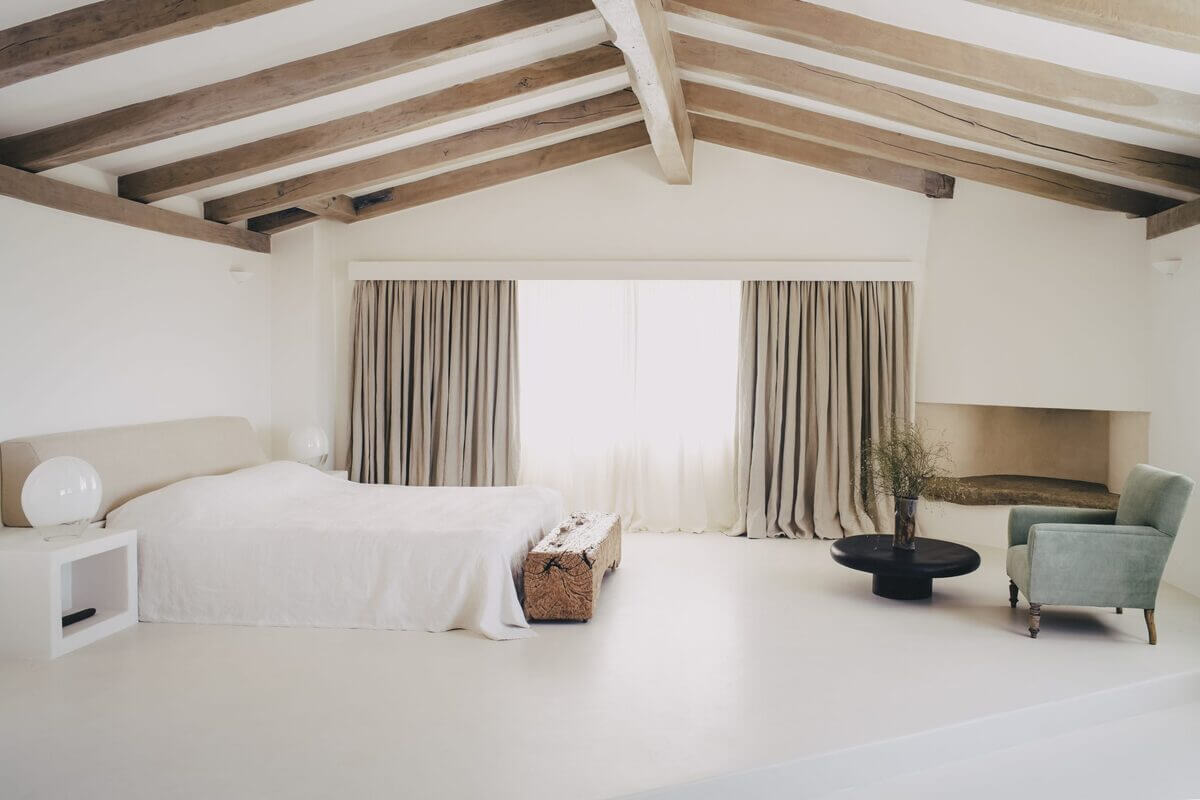 FOREST ESTATE,IBIZA
For another project she worked on, the "Forest Estate", she created a table out of a 300-year-old block of walnut and blended it with some contemporary design accessories. Such as a vintage Joe Colombo Elda Armchair and a Bauhaus lamp in the living room to function as a counterbalance of the rest of the furniture.
Furthermore, the London designer has a minimal-maximalist style, which means that she is drawn to simple interiors yet has a strong connection for overriding objects. She likes a pretty minimal area with a truly remarkable object. On the other hand, she enjoys a room full of strange and beautiful pieces that are all mixed together.
A contributing editor of British Vogue praised the London designer's use of very odd antiques and well-traveled pieces in schemes that seem clean and unflashy without tipping over into the cold, inhuman side of minimalism. Twigs recalls early morning drives to off-the-beaten marketplaces where Hollie whether converted birdbaths into sinks, Victorian cages into light fixtures, or robes into wall hangings.
Her childhood in rural Gloucestershire resulted in her love for interiors. The London designer spent her early years primarily horseback riding, meanwhile, her parents spend their time on real estate development. One of Hollie´s most vivid memories is of her waking up and her mother had remodeled her entire room overnight.
Eventually, when she moved out and remodeled a three-bedroom flat in Hertfordshire, north of London the London designer consider a career in interior design. Hollie studied design and graduated in 2005. Next, she worked for three years for the Oxfordshire-based decorator Harriet Holgate. At the same time, she was interested in set design, fashion styling, and floristry.
MANDEVILLE PLACE, LONDON
In 2013, the London designer opened her studio in Shoreditch, and she now manages a team of seven. She designed offices that stretch over two floors of a Georgian home in Marylebone for the German real estate agency Schönhaus. For that project, the London designer used gray marble for the lobby´s flooring and reception. Also, she put in fluted walls of dark stained oak and bespoke leather desks with a brass inlay and horsehair panels on the cupboard doors. She additionally added a Jacques Adnet Coatrack from France, a Gino Sarfatti from Zigzag Modern; and a cocktail table from EMMA.
LARDBROKE GARDENS,NOTHINH HILL
On the other hand of the spectrum is a bohemian apartment in Ladbroke Gardens which belongs to her cousin. It has green flooring and pastel pink walls, tapestries and Japanese prints, and more interesting accessories. Such as a stone garden sculpture in the living room, a table lamp in the shape of a mask, and a set of 1970´s dining chairs.The London designer designed the Lady Finger bed in the primary room.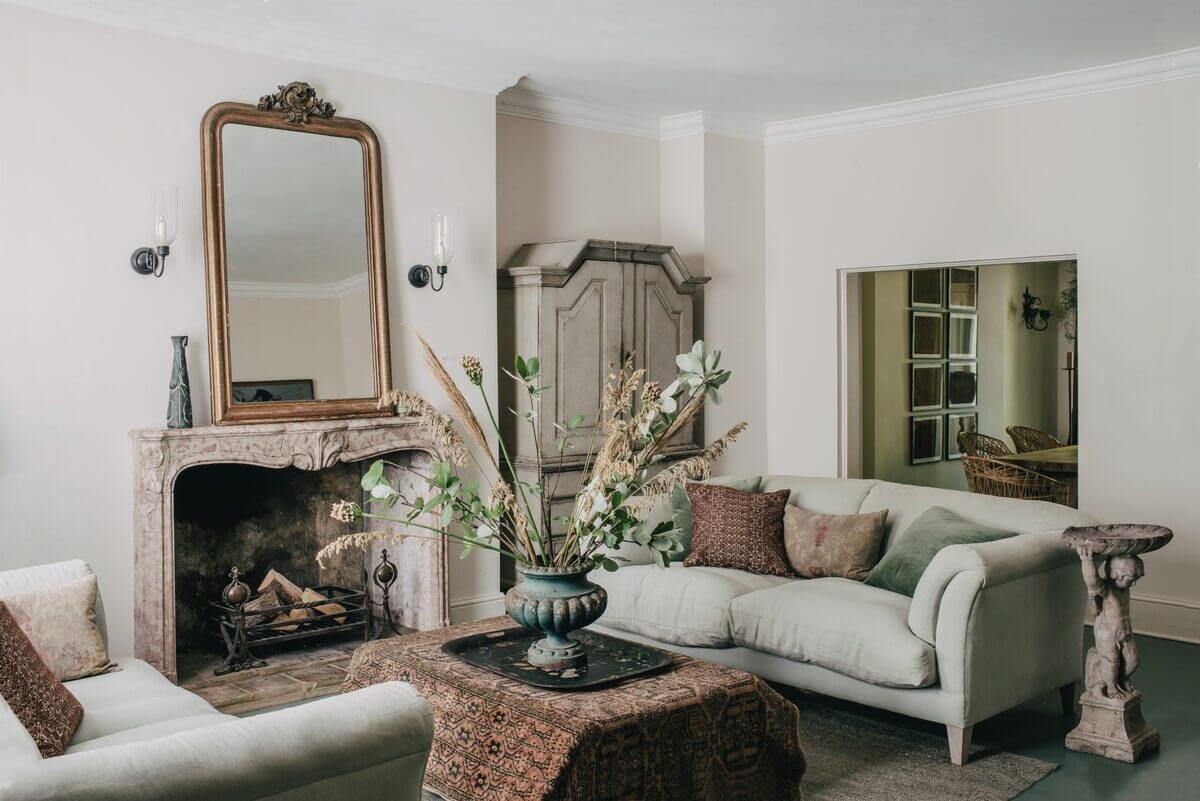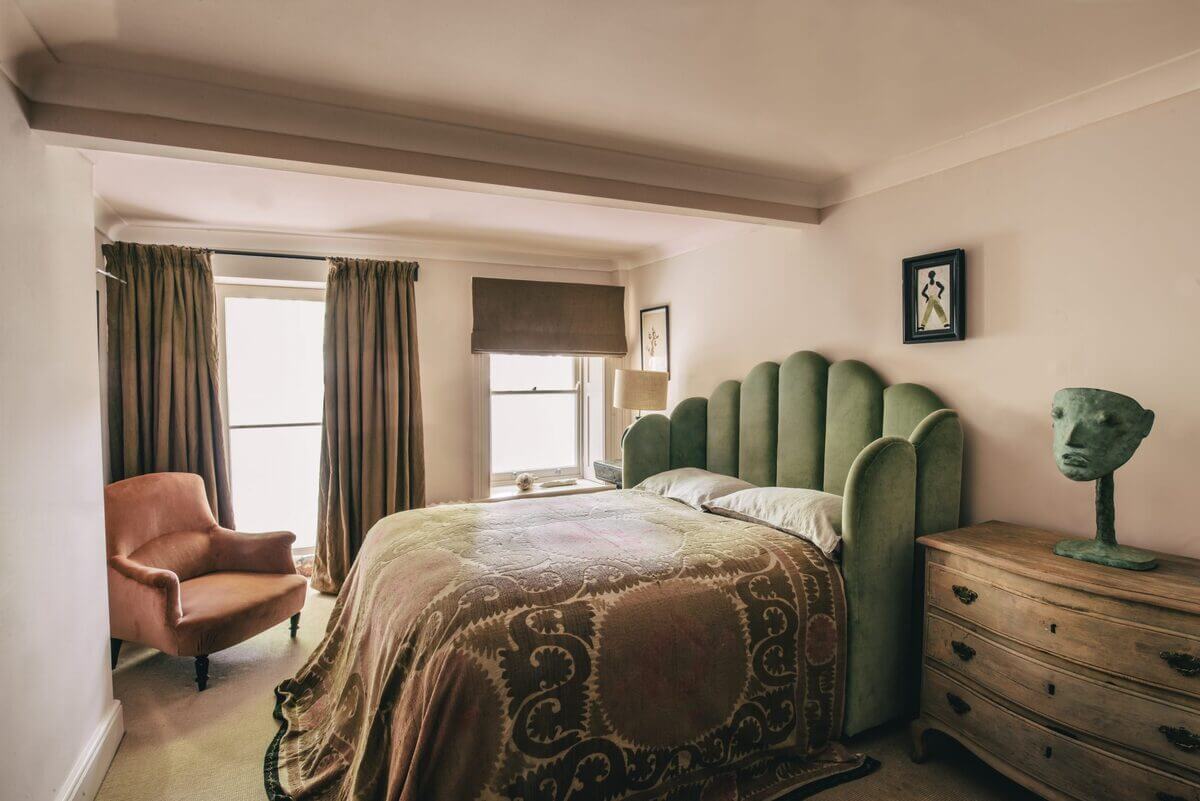 The London designer has been talking about establishing her own-in house furniture collection but, because of the number of projects, the idea has been postponed to 2022. However, she developed Space Cowboy, a stainless-steel base and horsehair cushion, displayed in MASA gallery in Mexico.

Credits: 1stdibs