Luxurious Spas provide relaxation, piece and comfort, so we are back for part II! Invite your friends and family and choose the right spot! If you want to read part I, its here!
Spa Oceana, St. Pete Beach, Florida
The Don Cesar's Hotel has a unique Spa, the Spa Oceana with 16 treatment rooms. Those treatments go from sound healing to scalp massage. The ingredients they use are, for example, teas, citrus, magnolia, homegrown fruits and beach grasses.
The Wellhouse at Blackberry Farm, Walland, Tennessee
Once you enter the Wellhouse at Blackberry Farm, you'll peace and serenity of the surrounding Smoky Mountains. It is a 4,200-acre luxury resort with Spa treatments, such as, Appalachian Body Purification, Reiki and Deep Tissue Muscle Recovery.
Willowbrook Spa at the Lake House, Canandaigua, New York
Willowbrook Spa is included in our list of Luxurious Spas! He offers ancient purification rituals with tailored spa therapies, custom-blended herbal tinctures and creekside saunas. A place to relax, with lake views and private garden access.
Ten Thousand Waves, Santa Fe, New Mexico
This magnificent Spa was founded in 1981 and had for inspiration the great Japanese Mountain hot springs resorts. It has 14 lodging rooms with private hot rub suites. Besides that, it also has a izakaya-style restaurant with indoor and outdoor.
Surya at the Santa Monica Proper, Santa Monica, California
Surya Spa is part of the Santa Monica Proper Hotel and is inspired by Indian Healing Traditions. Kelly Wearstler and Martha Soffer are responsible for this amazing spot, that was made for the guests, for them to feel like they were at home. Because of that, this hotel has a kitchen with healthier meals, but also a womblike den for post-treatment meditation and customised herbal oils.
The Reeds at Shelter Haven, Stone Harbor, New Jersey
Rejuvenation is main objective of the Salt Spa! Here, the clients can enjoy Turkish bath treatments, flotation therapy, and light therapy in the Himalayan salt-walled Brine Lounge.
Montage Palmetto Bluff, Bluffton, South Carolina
Montage Palmetto Bluff's Spa Montage has everything in one spot! From body treatments, to massage therapies, but also therapies. Here you'll be able to relax near by the serene waterways and moss-laden oak trees.
Cal-a-Vie Health Spa, Vista, California
Continuing our list of Luxurious Spas, we have Cal-a-Vie in California! It has 450-acre and offers an antioxidant-rich vinotherapy, an aquatic massage in the watsu pool. Besides that, you can also do facials with aromatic oils and restorative lotions.
The Spa at Shou Sugi Ban House, Water Mill, New York
Shou Sugi is an important part of our Luxurious Spas list and has Japanese principles of wabi-sabi as main inspiration. It is a connection to the natural world that gives treatments that use the curative properties of the ocean, wild flora, local pine forests and indigenous herbs.
Golden Door, San Marcos, California
Golden Door is a magical place, and Oprah Winfrey is a fan! It has a seven-day program for each guest that includes manicure or pedicure, five skincare or body treatments and in-room massage. Besides, you have the bathhouse with several beauty and body treatments.
Miraval, Tuscon, Arizona
We are in love with this amazing view of the majestic Santa Catalina Mountains! Miraval is a luxurious spa with 23 indoor and outdoor treatment rooms. They offer more that 100 treatments, besides the three heated pools, equine therapy and outdoor trails.
Salamander Resort & Spa, Middleburg, Virginia
First things first, this is a Forbes Five-Star resort with 168 guest rooms and suites. They offer special treatments and result-driven therapies that help their guests maintaining a healthier lifestyle.
Dunton Hot Springs, Dolores, Colorado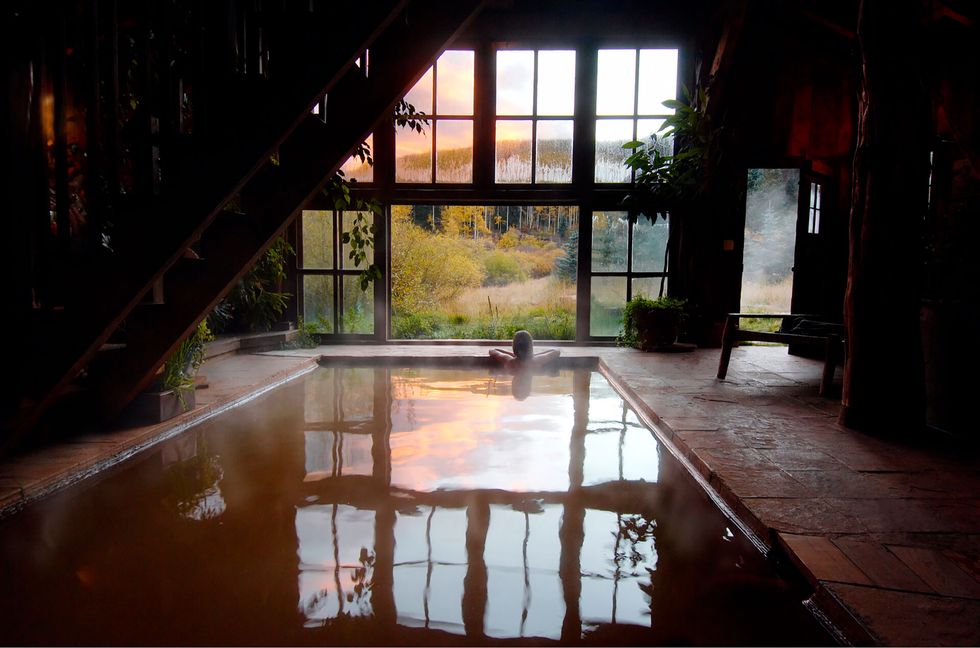 Dunton Hot Springs is a small, but luxury resort located in the San Juan Mountains of the Colorado Rockies. The local hot springs offer restorative bicarbonate waters rich in dissolved iron, for guests to seek in. They also have a 19th-century bathhouse!
Castle Hot Springs, Morristown, Arizona
Castle Hot Springs is an authentic oasis, a unique paradise that has mineral-rich natural hot springs and a farm-to-table restaurant. It has private custom cabanas along the spring water creek and under the palm trees.
Canyon Ranch Lenox, Lenox, Massachusetts
Last, but not least of our list of Luxurious Spas, we have the Bellefontaine Mansion with 100,000-square-foot spa that has cold-dip pools, saunas, and inhalation rooms.
Now it is time to choose the spot, go and relax!
Credits to: Elle Decor