Los Angeles Home of Giampiero Tagliaferri, the creative director of Oliver Peoples. The interior designer has several amazing interior design projects, but now he opens the doors of his home.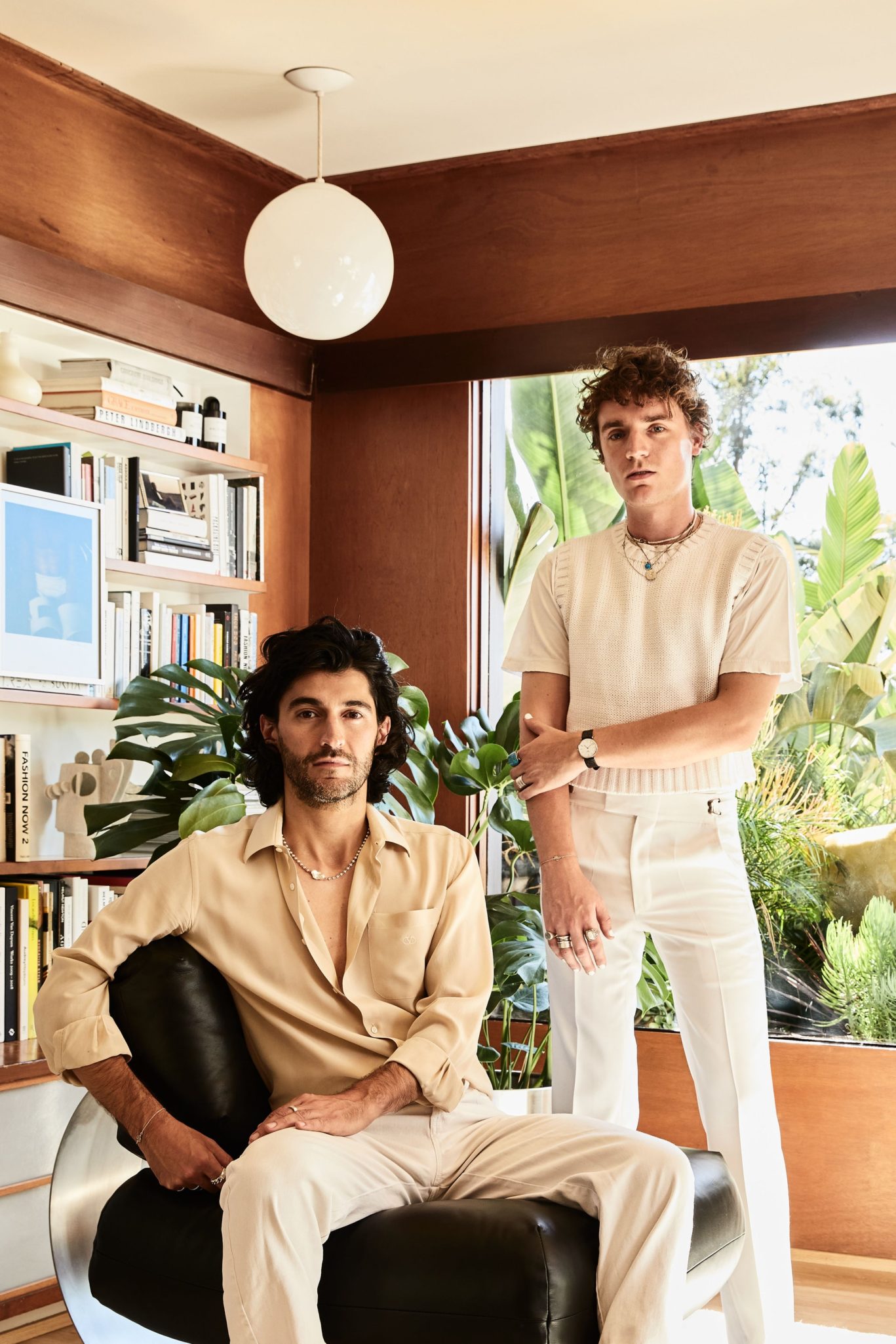 Giampiero Tagliaferri (left) could perfectly be an object lesson when we are talking about 20th-century Italian furniture and the bonds between Italian modernism and the mid-century modern movement. Tagliaferri is a treasure himself because he was born in Bergamo and spent several years in Milan. Working on the design and marketing strategy for Oliver Peoples. Right now, he works on his own and his home is a mirror of what he does and what he loves.
He says that "From the outside, the house has a strong Japanese vibe, like a ryokan. The glazing of the entryway almost feels like a shoji screen. But when you focus on the details, you see the unmistakable influence of Schindler and his contemporaries,".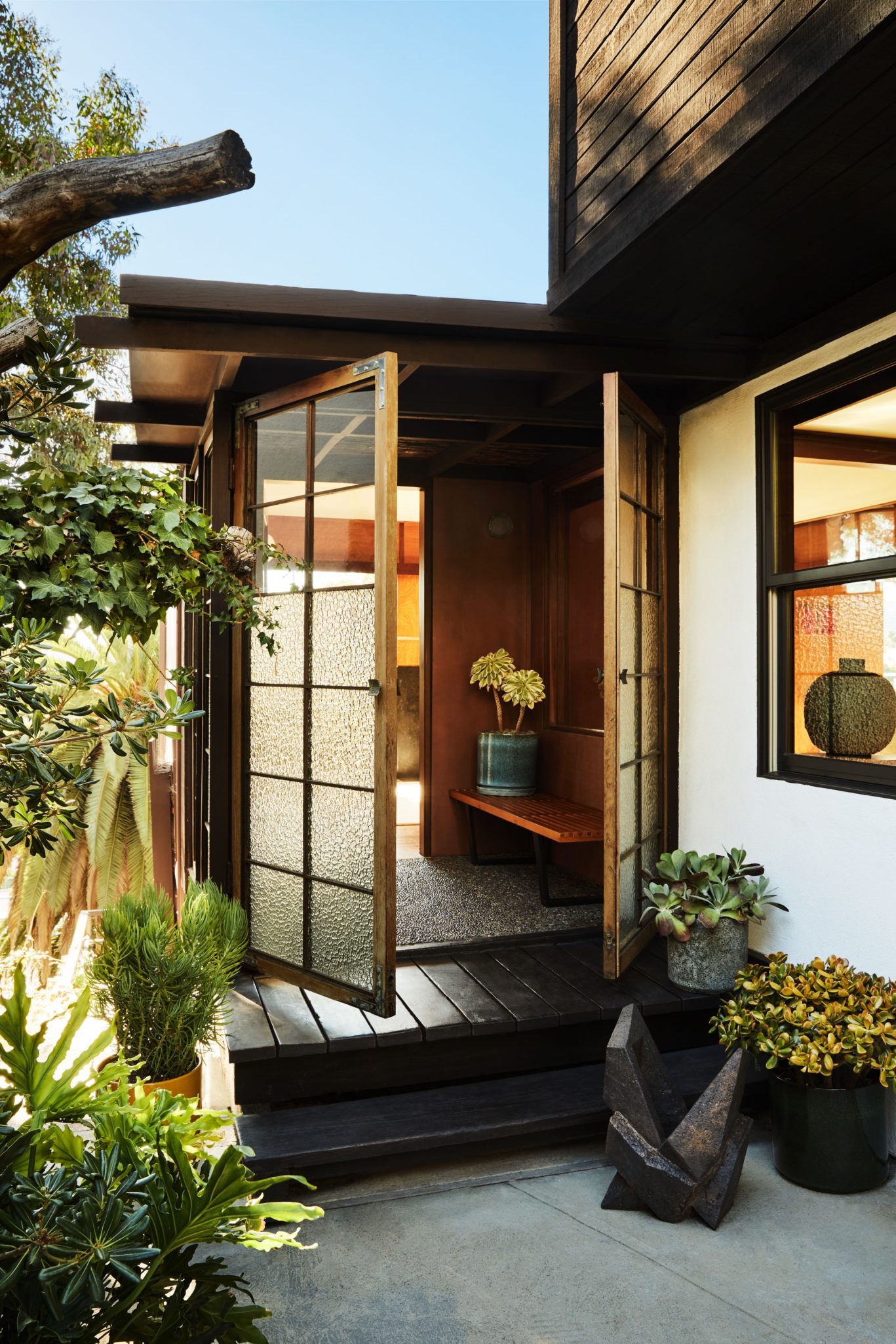 Within this home, you'll find the wonders of Italian art, but also contemporary pieces, for example, ar collection of Lucio Fontana and Sonia Delaunay, plants and vessels by Jonathan Cross, Olivia Cognet, and Eric Roinestad. There are some American mid-century furnishings as well, by George Nelson or Oscar Niemeyer.
"I'm interested in the cross-currents of modernism that connect the work that evolved in Europe, South America, and the U.S. This house gave me the opportunity to explore the kinship and tension among these disparate places and eras, and the ways in which the light and landscape of Los Angeles create a specific context and sense of place," 
Tagliaferri Home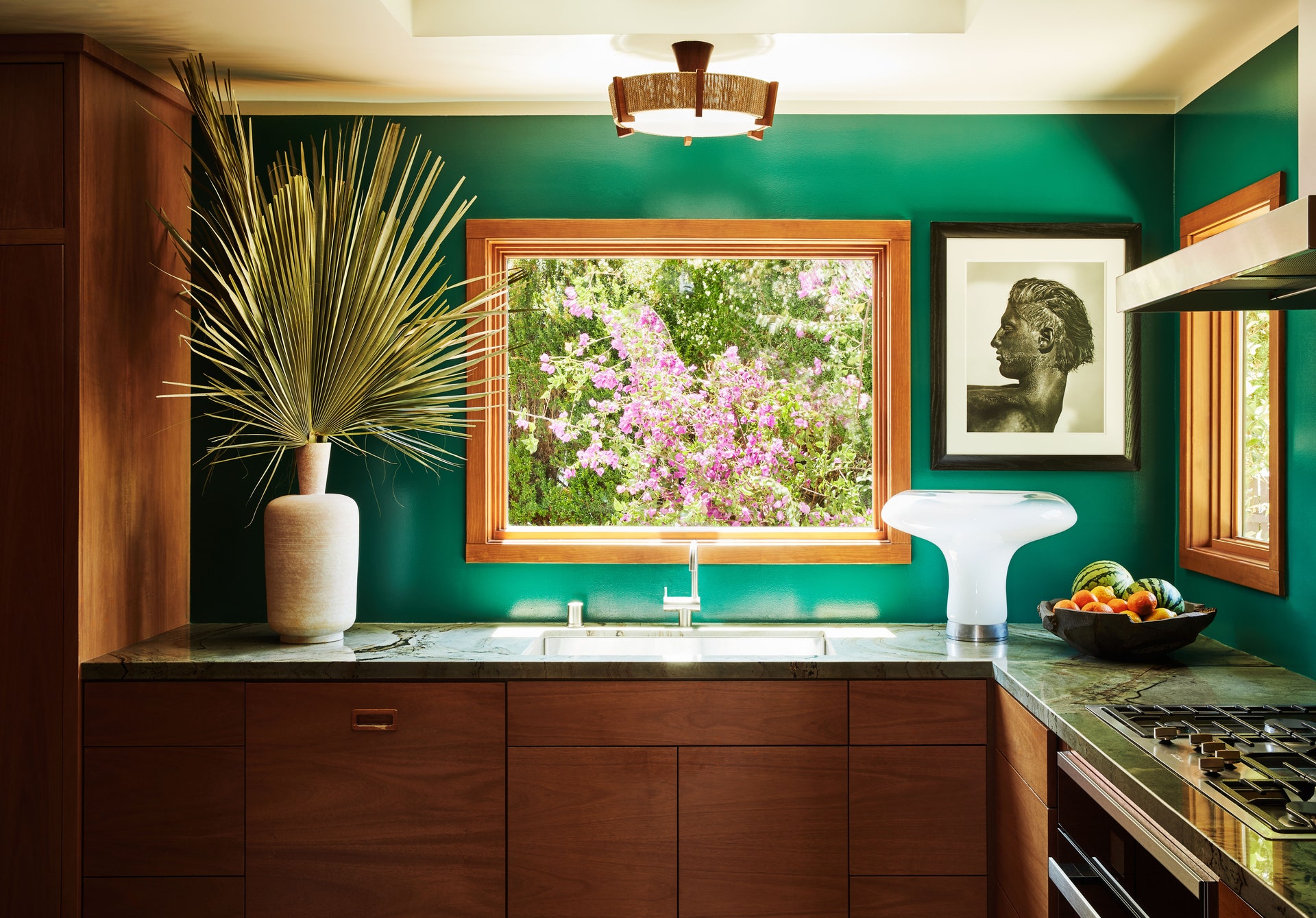 Today, in this Los Angeles Home, we begin to take a closer look at the kitchen. In here we can see an Angelo Mangiarotti table lamp side by side with an Eric Roinestad vase. Also on the countertop is a unique bowl by Jonathan Cross and a photograph by Herb Ritts.
The fireside features an Oscar Niemeyer Alta Lounge Chair and ottoman, a Jean Claude Dresse cocktail table. Also a Ribbon chair by Cesare Leonardi. Regarding the artwork, we can see a Lillian Florsheim sculpture (on the left) and a Lucio Fontana print above the fireplace. The red works on the right are from Bosco Sodi.
The living room is composed of Luigi Colani sofas and lounge, with a Joe Colombo Elda chair. And a Gae Aulenti cocktail table. There are also the Adam Sirek concrete planters and Ricardo Fasanello circular chairs. Here we can see several artwork pieces, like the Senufo African bird sculpture and works by John Baldessari and Cesare Berlingeri.
Here there is a closer look at the Joe Colombo Elda chair.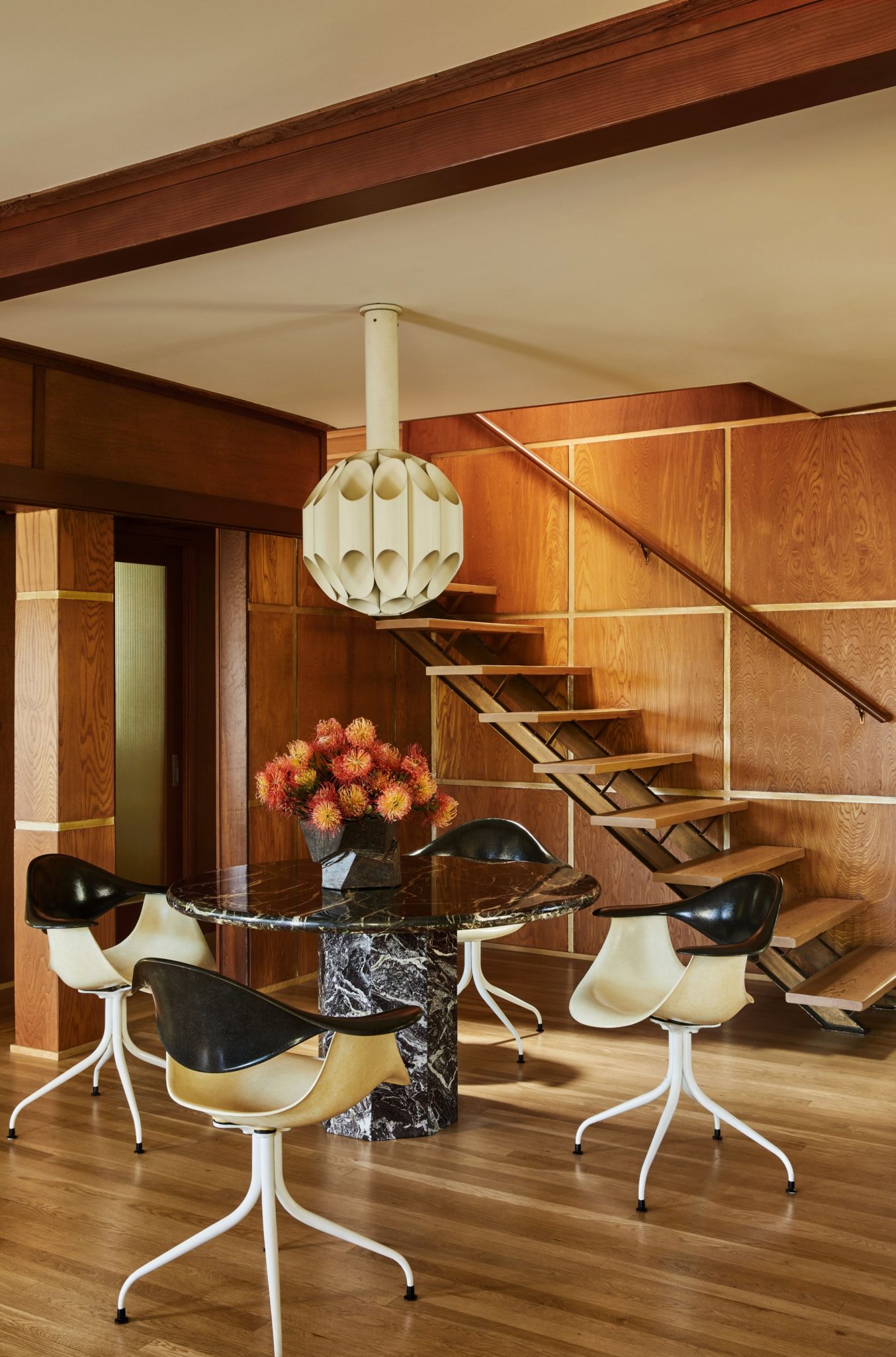 The dining area has a vintage Italian marble table, with George Nelson chairs. Above, we can see a Gianni Celada pendant light for Fontana Arte.
The office room has Vico Magistretti chairs and a Gianni Moscatelli desk. Besides that, we can see a painting by the architect Craig Ellwood, and a Ray Howlett sculpture.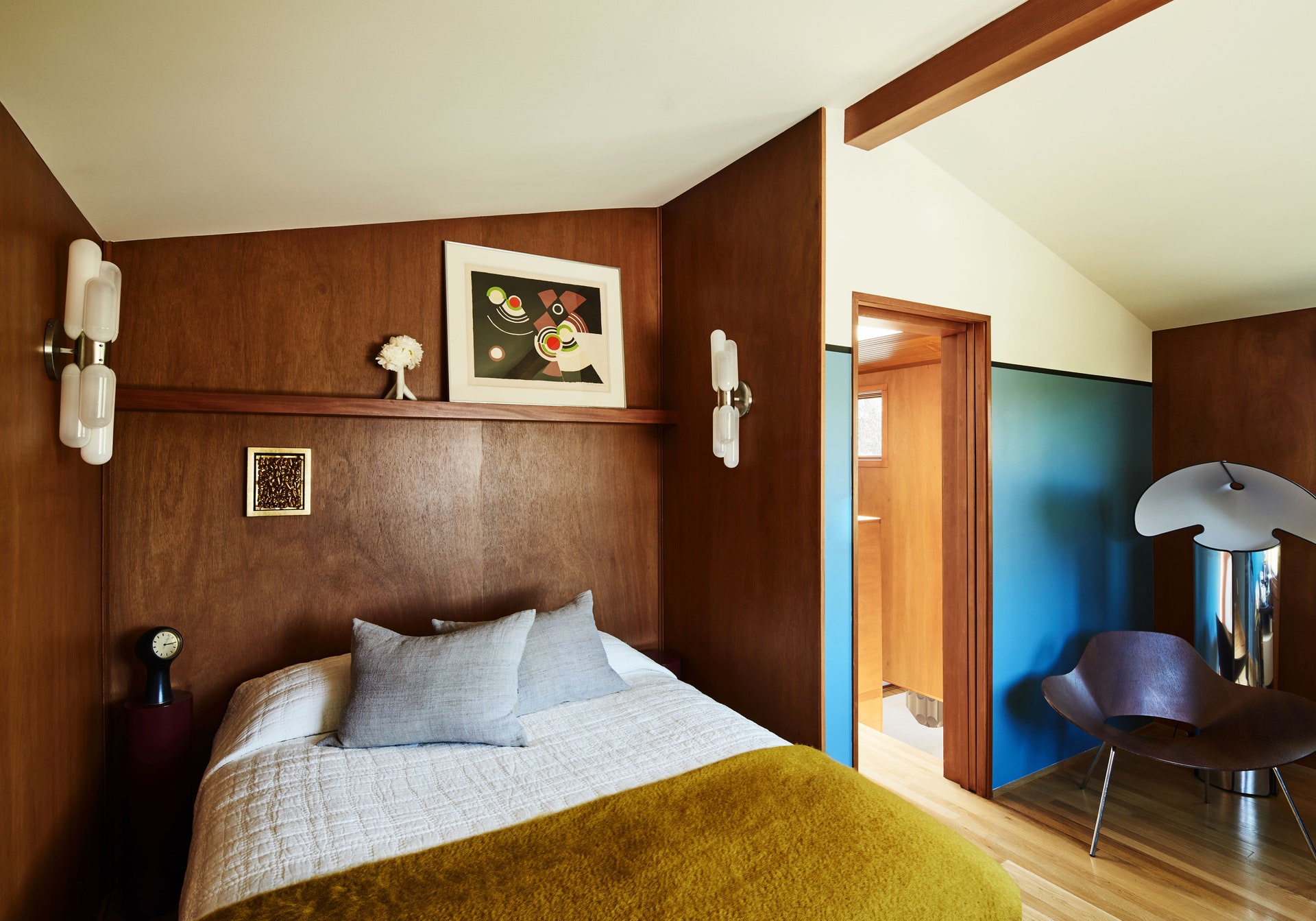 The primary bedroom has a simple, but unique decoration. With a Mario Bellini Chiara floor lamp, and wall sconces by Carlo Nason for Mazzega. The artwork above the bed belongs to Sonia Delaunay.
Exterior Decor
The deck of this Los Angeles amazing home has a view overlooking the hills of Silver Lake. Talking about the design pieces, there is a Van Keppel-Green chaise-longue and an Eero Saarinen table with Walter Lamb chairs.
Last, the exterior space features a Paolo Piva sofa for B&B Italia and a pair of Vico Magistretti armchairs. The sculpture of blue glass belongs to LA artist Sébastian Léon.
Credits to: Architectural Digest