Whatever your taste, situation, or preferred breed, there is a dog out there for you. And also a book for you. Yes, you've read correctly, a book. The new publications emphasize the sheer breadth of canine diversity – with a sense of cuteness everywhere. The design, and the dogs, of the house and the interiors are a big theme on these pages, with good reason: our furry best friends need a fancy place to sit, stay, and lie down.
For many homeowners, two loves are likely to live in constant opposition. The first, your thoughtfully decorated home; the second, your canine companion, the one and only (dog) love of your life. But riddle me this: What exactly do the world's best and brightest interior designers, who also happen to be proud pet owners, do at their own homes?
The books came with the answer: they show that it is possible to create an elegant and refined design, whether in a modernist hideaway in Palm Springs, a cozy seaside retreat, or an elegant old stone house in the countryside of England, with the presence of your dog. Who knew that (wo)man's best friend could inspire their stylish owners' houses too?
Trust us: You won't be able to keep your paws off these fetching tomes.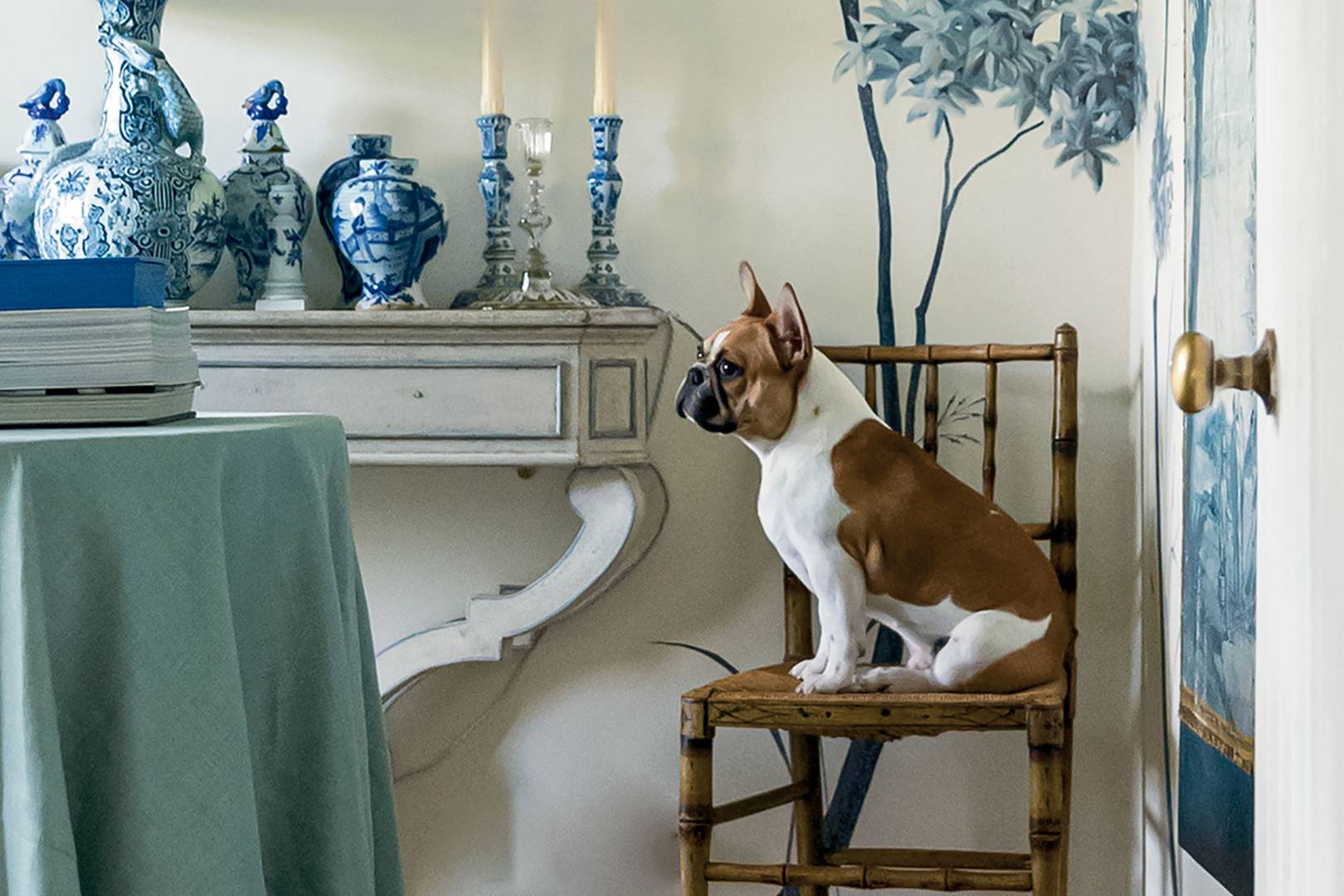 .
At Home in the English Countryside:
Designers and Their Dogs
Susanna Salk, author of several books on home and lifestyle, combines three irresistible topics in this Rizzoli release. Her text is accompanied by an introduction by interior specialist Nina Campbell and illustrated by photographs by Stacey Bewkes.
An intimate celebration of British country life with all the hallmarks of how design and dogs are as intertwined as roses and Wellingtons. This dreamy look into some of the most beautiful country homes and gardens in England, lived in by many of Britain's brightest design stars and their dogs, is brimming with inspirations.
Readers are introduced to 300-year-old stone houses and lush, rose-dotted gardens, and to their owners, prominent creative talents all. Anouska Hempel, for example, sits with her two labs under a veritable waterfall of wisteria at her Bath retreat, a 1711 Dutch-style beauty with moldings for days, which she has stuffed with maximalist-chic baubles.
Reflecting a typical English decoration, the elegant houses are full of artistic representations of dogs, from figurines to wallpapers. In an excellent example, two stone dog sculptures parallel designer Katharine Pooley and her terrier Jack Russell on the steps of the entrance to her old stone house, called the Coach House, in Oxfordshire.
Ach Suggestion
Perros figurine decor dog is a luxury set of two decorative figurines inspired by vintage ceramic dogs. An artistic, timeless, and unique design for decor and pet lovers.
With a modern style, it's made and painted by skillful hands. In addition, the dog sculptures will add a stunning combination of details to your living room due to their eye-catching look.
.
Palm Springs: Modern Dogs at Home
Authored by photographer Nancy Baron and released by Schiffer Publishing, the book takes its cue from the spare mid-century modern architecture it celebrates. There's a bare minimum of text about each dog and a simple identification of the homes' architects, who include top names like William Krisel, Herbert Berns and Donald Wexler.
Many of the dogs are rescues. Fido Galore, a pit mix, probably never imagined that she'd move from languishing in the pound to lounging on a luxurious, shaggy throw in a 1969 house by Krisel. Although it's not stated explicitly, there seems to be a connection between the preservation of these masterful modern homes and the embrace of unwanted dogs. All it takes is the right eye to see it.
ACH Suggestion
Duuo pet bowls are pleasing elliptical shapes, designed for dogs and cats' feeding time. The special pet collection design is perfect for wet and for dry-food, as well as for water, it is the best choice for a luxury pet feeding time.
Our pet collection presents an exquisite selection of handmade objects, full of praise and love, reflecting the lifestyle that our animals deserve!
Bubbles Pet Bowl features a decorative and functional design for your dog or cat feeding time. The Pet bowls and beds collection brings a futuristic and fun vibe to your friend spot.
It's perfect for wet or dry food and water.
.
Cool Dogs, Cool Homes:
Living in Style with Your Dog
There's definite truth to the old saying that dogs look like their owners. The question now is: do interiors become more like their four-legged occupants? Author Geraldine James doesn't provide a definitive answer in this CICO Books release, although James Gardiner's photos reveal a lot of dog-shaped depressions in sofas.
It is divided into five sections, so you can choose the one that suits you: Urban Dogs, Country Dogs, Shoreside Dogs, Design Dogs and Rescue Dogs. But don't be put off by an isolated chapter, some relate to the type of hound, others to the setting — exemplifies the charmingly British offhandedness of the book, set in London and elsewhere in England.
Ach Suggestion
Cosmic Pet Bowl features a decorative and functional basin design for your dog or cat feeding time. The bowls and beds collection arises with a futuristic and modern vibe to your friend spot.
Perfect for food and water. It is time to serve your four-legs friend in style with a design bowl just as well designed as your home decor.
.
Resident Dog, Volume Two: Incredible Homes and the Dogs Who Live There
Photographer Nicole England follows up her first volume, published in 2018, with a daring departure: a dog book in which some of the shots are totally dog-free. The order of the title's topics also seems to signal her priorities; home design comes first.
The book, from the publisher Hardie Grant, favors stark contemporary architecture with lots of spare and powerful concrete walls, and modern design landmarks.
It bounces around the globe from New York City, where Simon Doonan and Jonathan Adler's ebullient and colorful apartment harbors the mutt Foxylady; to Washington State, where a restrained Olson Kundig–designed wood-framed residence is home to Louis the labradoodle; to Mexico City, where a striking house by legendary modernist architect Luis Barragán is enjoyed by not one, not two, but eight dogs of various breeds.
Ach Suggestion
George pet bed is elegance personified. Every dog deserves a pleasant rest-time.
Handmade in leather, it works not only as a perfect luxury place for your pooch's naps but also as a home decor piece.
We really hope you liked our article about dogs and the design interiors. Feel free to pin all the images to your favorite Pinterest board. Meanwhile, you can also visit our Pinterest boards to get more inspiration.
Get more ideas for your projects and find functional, stylish, and sizable lighting and furniture choices: